Just a little update on how Lucas is doing.



He came home from the hospital on Thurdsay night. It is great to have him home with us. He is such a sweet little baby. He has some fun alert times where he will just look around. It is fun to see his eyes open and wonder what he is thinking.



We had a Drs appointment yesterday morning to see his regular pediatrician. We are so lucky to have a great pediatrician for our kids! He isn't doing as well as we would have hoped. He has lost a couple more ounces, which is a concern, since he is so small as it is. Because of this we have decided to do every other feeding from a bottle. The concern is that he is having to work so hard at nursing that he is burning more calories than he is taking in. Luckily, we are able to use mostly expressed milk instead of formula, as I am using a pump after his feedings to keep up my milk supply. He seems to go back and forth between feeding styles just fine so far. Hopefully this will help!



His Bilirubin level has also gone back up, so we had lights brought in last night. Hopefully they will do their job quickly and he won't have to spend too much time under them!



Today we will head down for another Bili check and a quick weight check to see if our feeding plan is working. Keep your fingers crossed for us.



Here are a couple of pictures. We havent' taken a ton, as we are having to keep him pretty wrapped up to keep him warm. But we have a couple here that I think are fun!

I LOVE his expression here! It just cracks me up!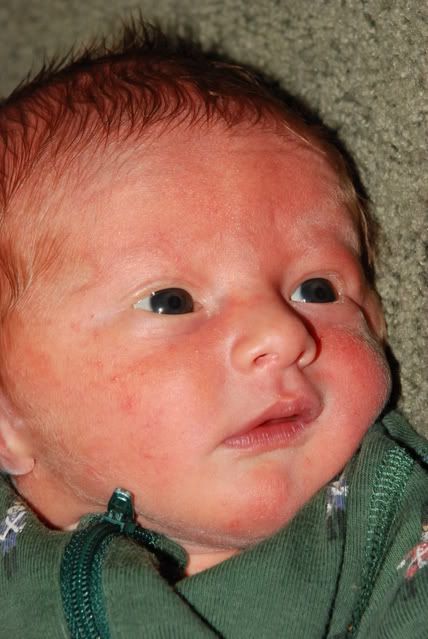 Here he is in his carseat, in the car, coming home from the hospital.